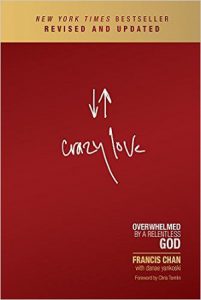 God's love for us is crazy! And in turn, we should seek to have a crazy kind of love for Him as well. That's sort of the takeaway from this easy-to-read yet lifestyle-challenging book.
Most Christian living books fall somewhere between the lines of "new believer" and "Bible scholar," but what's interesting about Crazy Love is its ability to inspire, encourage, and correct believers at every stage of faith.
Francis Chan has become sort of a staple of radical modern scripturalism in America, and Crazy Love is one of the staples of Chan's written works to date. It strips away the excess of church culture and trims the fat of misleading Christian lingo to face the reality of being with and abiding in God.
I read this book with a few friends and also went through the interactive workbook and the DVD together. Neither of those extra study materials are needed, but are designed to help individuals and especially groups to get the most out of the book.
I  cover all of the materials here in one review since it all is the same material and works so closely together. However, my main focus will be on the book which is the "primary" source of content. So without further ado, here is my Crazy Love by Francis Chan summary and review.
Short Summary
Chan starts off his super-spiritual Christian book in a shocking and unconventional way: by naming the first chapter "Stop Praying."
Of course, he doesn't recommend you stop talking and walking with God. His point is to stop talking at God. Stop being trivial about the relationship. Concentrate on being speechlessly in awe before His glorious presence. And be quiet so as to listen.
The rest of the book goes on in a similar manner: to take your average Sunday School expectations, flip them on their head, and show a higher reality in light of scripture. A greater ideal to realize. Not to condemn what you learned in church, mind you. But to challenge it to a greater and more glorious perspective. In exposing this truth, Chan also overturns some myths about Christianity.
A big part of this book is about quality over quantity. Do you know a lot of theology with a head full of things about God? That's good, you know God intellectually. Do you have affection and fuzzy feelings about Jesus and His love? That's great, you love God emotionally. Does your love for God show in your daily life and in how you treat people? Wonderful, you worship through work and practice.
But how do all of those tie together? Do you actually pursue an honest, open, and fully intimate love-relationship with God? Most importantly, do you know Him personally?  Do you realize His infinite grace and astoundingly overwhelming love for you? Do you accept that? Do you want that?
Crazy Love is a clean, easy-to-read, and somewhat quick rundown on how God's love for us and in turn our love for God is manifested. It's scriptural, but not too academic. It's lightweight and simple, but simultaneously grounded and deep. It's a good teacher for a new Christian, and a good reminder for the seasoned and saintly.
Who is Francis Chan?
I don't normally do biographical sections for authors in my reviews, but Chan is more of a public figure than "just an author" in the Christian world. Also, I have a decent familiarity with Chan as one of my early Christian influences.
What you won't find when searching for information about Chan is denominational ties. He travels to and speaks at various types of churches within evangelicalism and refuses to use labels and buzzwords.
This is a good thing, because it forces one to analyze his message and reputation rather than a particular brand of dogma. That's pretty easy to do, because he tries to keep things basic and boiled down to their core essence.
His views are evangelical, for sure, but many of his particular doctrinal beliefs are difficult to determine. What's important is that he stands firm on the essentials of Christianity and is a well-learned pastor who is grounded in scripture. Here is Francis Chan's website.
Why Read Crazy Love?
Crazy Love isn't just another convicting book that makes you question your salvation. It's refreshing to be led through the deepest and most difficult question of life without being told "you're not a Christian if…" It's also not about "rededicating" your life to God.
It's about helping you to focus on the single most important thing. Jesus said the greatest commandment is to "love the Lord your God with all your heart, and all your soul, and all your mind (see Matthew 22:35-40).
And out of that comes the second: to love your neighbor as yourself. Finding that commandment as more than an ideal is what Crazy Love is about, without bringing guilt or emphasizing performance. It really talks about how to be intimate with God.
As profound and revolutionary as Crazy Love may seem, it's nothing new. Even Chan himself states this. Everything in this book is pretty basic theology, taken directly from scripture with a call to simplify our faith by walking with Jesus. And there are a lot of references to scripture.
So if it's no profound revelation or comprehensive guide, why read Crazy Love? What I love about this book is its tendency to make the Lord's love seem fresh, desirable, and new amidst a sea of worn-out warnings about doom-based judgement.
Crazy Love is a collection and summary of the ideas in the Bible that teach about God's love for us, our love for God, and our love for others. It's presented in an easily digestible format, like one you would expect from a metaphysical self-help book. But instead of Osteen garbage, it teaches Biblical truth.
Possible Negatives
It is sometimes discouraging to see the high standards that are set in the Bible for followers of God. Humans are such lowly creatures that often these principles seem idealistic, impractical, and unreachable.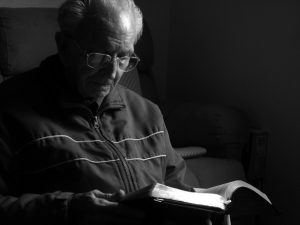 An overly sensitive person, or one who often feels guilty, or one who has encountered the poison of legalism, could very well inadvertently feel shamed by this book. Chan is very graceful, quick to dispel the lies of legalism, and thoroughly explains that performance is not the end goal nor a means of salvation.
However, when reading about the possibilities and fullness of Christian life it is easy to feel insignificant. If you read about putting practice to the faith before seeing it in practice, it's easy for the idea to seem higher than the reality. Or have you been seeing and doing it for years, it might be difficult to respond to a call "back to basics."
The most possible downfall in reading this book would perhaps be the same downfall one would experience when reading about the high standards set in Acts and the Epistles. Without realizing the fullness of God's grace and mercy, we will always be disappointed by our own shortcomings.
When reading Crazy Love one must keep in mind that we live in a broken, fallen world full of messed up people like you and me. You must keep in mind that God does not expect us to be perfect but offers to meet us with His divine perfection.
Study Book
Crazy Love is one of those products that is based off of but not limited to a standard format book. To get the "full experience" (or at least, a more robust study), it is recommended to also use the workbook and watch the videos.
Personally I don't know that I would recommend the workbook for individual study. That seems to be what the book is for. I'm not even sure I would recommend it to groups since most of the questions in the workbook are the same as the ones asked in the videos (which can be found online for free).
In my study group of college agers, none of my peers seemed to have the time to read the book nor use the workbook. That's saying less about them personally and more about the reality of life and small group dynamics.
If your study group is full of mainly casual attendees or very busy people with hectic schedules, don't be too hopeful in the depth of the study guide. If you have a very small group of dedicated readers, though, the workbook could be great.
Video Series
That leads in to the next part of Crazy Love. There is also a series of videos to supplement each chapter of the book. The videos are an excellent way to visually engage with the material in the book. At the end of each, there are question prompts to pause on and talk about.
If the workbook doesn't work out for a hustling and bustling group then the videos will be perfect for them. I found that watching one video for each week (there is a video for each chapter) and using the discussion questions afterward made for excellent group introspection and dialogue.
You can purchase a Crazy Love DVD with all of the videos on it, but you can also find them on YouTube. The DVD is, of course, the preferable option when you have limited internet connectivity options.
Conclusion
Crazy Love is an excellent Bible resource. Down-to-earth while looking up to Heaven, simple yet heavy. There aren't a lot of books I'd recommend to everyone including people who don't read, but this is one of them.
Crazy Love has a high re-read value and it's extra resources (the study guide and videos) make it a fantastic source of study material in a small group setting. You could use it to teach anyone in even the most diverse groups.
Like I've already said, both new believers and faithful old Bible scholars can learn something here. I personally was challenged and brought to greater understanding with this book, and I think you will have similar results.
If you have feedback or you've read Crazy Love as well then let me know about it in the comment section below. I'm always glad to hear from you!