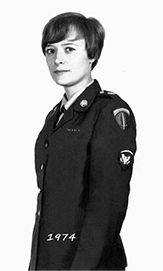 This is part 2 of a very summarized version of my mother-in-law's autobiography. Make sure to read part 1 first.
At the end of part 1 Susan had graduated from a life of order and discipline at a Catholic school. But the trials still didn't stop there…
---
False Charges
"Off to a Christian college in Enid, Oklahoma, chosen for me, where I barely escaped date rape by a boyfriend picked by my mother, only to be molested by a sorority sister. God, where are you?
God is NOT in religion. When I tried to talk to my mother about changing universities, a battle ensued. It seemed she and my stepfather were major donors to this place, and I had to attend or else. If I left, I was threatened with violence and car theft. I fled, after being beaten, only to end up spending a weekend in jail on false arrest—interstate transportation of a stolen vehicle. A felony. What? Steal my own car? Well, it was a good thing I kept the cancelled checks.
Where was God in this injustice? I spent an uncomfortable 2 ½ days in a cell with a de-toxing drug addict who grabbed me by the collar in the night and screamed "Tell the screw out there you've got a headache and want some aspirins." No sleeping. On Monday morning when I went before the Judge, I was in trouble again. He ordered me for psychiatric examination, and not one word about the false arrest. Hypocrisy in the justice system was on the side with the money.
Women's Army CORPS
My personal life was a mess so I was already looking to enlist when the relationship I was in turned violent. The Army swallowed me in regulations, and unfortunately, "situational ethics" that came with military lifestyle. But I had found a place that had order to it and I planned to stay. Perhaps order could replace God. He didn't seem to answer prayers when I was in jail. It seemed that each place I would go and start to feel safe, something would tear it apart—my own ignorance, another person, or a situation beyond my control. Life happens, and it seemed to me that God didn't much care.
My journey in the Army took me to West Germany, to Nuremberg. My work station was two blocks from the coliseum from which a godless Hitler planned to rule to the world. The patch on my uniform from my post in the U.S. was the same as the one General Patton painted across Europe during WWII.
The patch for my new assignment with 7th Army Europe was a flaming sword of Justice. How ironic, as there is only One who can hold that sword, who will one day come to judge all the earth. Again, looking back, I see now in scriptures a turn of events that brought me to Him. I already wore His flaming sword – I just didn't see it enough to yield my life to Him.
This Army path I had chosen was turned upside down by a nearly fatal trip through a gas chamber filled with cyanide—to test new gas masks. I developed a seizure disorder which caused such head pain that even high doses of medication couldn't take it away. I became a drug addict and was lost in the military system. Since the Army couldn't use me anymore I was then returned to the U.S. and let go, honorably discharged, with medals and certificates. Good bye. Thanks for your life: abandoned again, outside of Chicago at the Army base in Ft. Sheridan, Illinois.
Facing Questions
Suddenly I was on my own again. Very ill, unable to work, nearly penniless, and certainly friendless—and I hated God for it. Why could I never find peace? What was I to do with my life? I had been a good soldier. Why couldn't God just leave me alone when I found a job I could do well, rising in rank, and stop punishing me?
I drifted back to Oklahoma, and after a disastrous stay with a relative and her significant other, I rented an old house in Mustang from a family that went to church on Saturday—of all days. They were very strict about any kind of work on the Sabbath, but they were kind and helpful. I began to ask myself questions about what I believed, because I had no answers when they asked me.
Those questions and answers had never mattered before now. I had time on my hands, as I was unable to hold a job and had a minimal income from the Veterans Administration after 3 years of paper work. I may as well try looking for answers or at least listen. I had come back to Oklahoma to wait to die. I thought God wanted my life to end as many times as it almost had ended, so surely it was to be soon!
The Tornado
One afternoon, the city of Mustang tornado sirens went off. The 3 families on the acreage gathered around the one cellar as we watched a tornado on the ground heading right for us. I had made all the preparations down inside the old cellar, but these people stood around outside praying!
I didn't feel that God would spare what little I had at that old rent house since it seemed He'd been out to get me all my life. So NOW He was using a tornado? Why not? But here was this family holding hands, praying, and then telling me not to worry. I said, "OK. If this works, I'll go to church."
Well, the tornado went back up into the clouds. As it passed over us, we could smell the foul things it had picked up. It then set down on the other side of the highway and I was held to my word. I went to church. I began attending church regularly and began to see scriptures clearly. As I read, I saw my life in the lives of the Bible characters and wished I had read more about them years ago. I asked to be baptized. I wanted the Peace the scriptures promised.
Conversion, Baptism
The sweetest words I ever heard were at the baptism. The minister said, as I came out of the water, "Susan, I can tell you with the authority of Jesus Christ, your sins are forgiven." Oh, what a moment! Time stops now as I remember that old green canvas bathtub in an elder's garage on a September's evening, 1982. There were two other people to be baptized that night. Of the 3, I am the only one still alive. I had thought due to my health issues I would die before I reached 40, but I have long since passed that mark.
Here I am, despite my destructive efforts—alive and still trying to stay on THE PATH. By the way, life didn't turn rosy after my baptism. The family I was renting from turned away from the church. I had to get out of there. My seizures were worse. The assistant pastor at the church accused me of being a drunkard and not ill at all since he had not heard of absence seizures or my rare ear disease (Menieres Disease). Soon, the church itself was in turmoil over doctrine. I let them feud over it. I studied the scriptures.
The new house I had purchased on my small income was in Yukon, Oklahoma, but next door to a dysfunctional family. Their situation was dire. The son killed himself and the father liked to shoot off a gun outside my window late at night. I was stalked. Since I remained ill and without insurance I had to go for medical care to the Veteran's Hospital. I was victimized by medical staff at the VA hospital and also in the Tinker Air Force Base emergency room when I was helpless during seizures. Life continued to happen.
Rich in Spirit
Sometimes the seizures caused me such mental confusion that I would run out of money before the end of the month, but I was rich—in God's word. I could sit for hours reading the Bible. God's word. It was as if I had found the Jesus that called out to Zaccheus. And He spent each evening teaching me and greeted me each morning in those pages. He still does.
I could see Him and hear Him in every book of the Bible. I have been every character—I saw MY every sin, MY every flaw, but without fear of looking at my life now, because I felt AND understood His non-condemning presence. ("Neither do I condemn you," Jesus said, "but go and sin no more." John 8:3-11. ) How wonderful is that! When I read how Jesus forgave, with mercy, I believed Him. I believed He would even extend this mercy to me. I had a new life to live. I wanted this new life.
My health improved. In Matthew 21:22 Jesus said "whatever you ask in my name, will be given to you," and Matthew 6:8 says "He knew what I needed before I asked". I just had not asked the RIGHT THINGS—like asking Him into my life. I had not surrendered to Him or asked Him to give me peace and wisdom. And the scripture says that's my fault—James 4:2 "you have not, because you ask not."
What's the Point?
I never dreamed I would live this long. My life was like that tornado long ago passing over—foul smelling, chaotic, and destructive. Then God gave me a new life in Him. I already mentioned that my health improved. I was able to travel more, start my own cleaning business, join the choir, and meet the love of my life to marry at the age of 40 and have a wonderful daughter at age 42. How could this be? God granted me the desires of my heart, even though I still suffer with my illnesses. I am just not alone. I have family and a wonderful loving church.
So many times I faced death, many times by others hands when I was still a child and young girl: from torture; being shot at for target practice; being a hostage; being left in the woods to freeze to death; taken to the river at flood stage to be drowned; and then by some of my own stupid decisions. I have experienced 18 car wrecks, countless tornadoes, and the only hurricane to hit England in over 208 years!
Some things happened after I was baptized and truly understood the new life given to me by Jesus Christ. It is an amazing thing to look back over time to see His loving Grace, even where I am today. Other places are left as mysteries, probably not to be answered in this life, and some days I still ask myself "why", when that is not the question to ask our Lord. The question is "what can I do with all you have taught me?"
I started out talking about the time I sat in my cherry tree on Sycamore Street, waiting for Jesus to come talk to me. He must have called me and accepted me that day, only I didn't realize it. There was hope that was given to me that day, and it saved my life. Jesus waited for me. I only wish I had chosen Him sooner.
Happy? Oh, yes, and the conclusion?
God does watch out for us. He has saved me, physically and spiritually. What can I say to Him now?
"Here I am, Lord. Send me" to teach others how to find the happiness only You, Lord, can bring."
---
Despite a life of suffering and confusion, Susan found peace when she finally submitted her life to Jesus. The point of life is not to be happy and pain-free, but to seek the Lord in all things every day.
Check out Susan's book to learn more about her life and story (I'm in it, too! 😀 ) Thanks for reading!